Our Clubhouse, the Uwchlan Meeting House in Lionville, Pennsylvania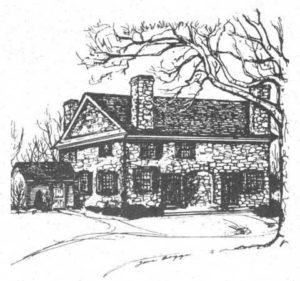 Our township and village names are a little strange. Our township, Uwchlan, means "land above the valley", and was named by Welshmen who settled the township. The name for the village of Lionville was derived from the "Red Lion Inn", when the first post office was established in 1826. The building we treasure and support was a Friend's Meeting House where people in the area came to worship God and attend their business meetings. It is no longer used nor owned by the Society of Friends, but it is preserved as the oldest public building in Uwchlan Township. The present Meeting House was built in 1756 and was used as a library, a hospital for soldiers during the Revolutionary and Civil Wars, and a schoolhouse until the Woman's Community Club of Uwchlan (WCCU) purchased the building in 1963 to use as our clubhouse.
These energetic and dedicated women borrowed money and ran fundraisers to put in running water, a heating system, a small kitchen and lavatory. Interior walls were painted and the wooden partitions were refinished. In 1971, a plan was formulated to restore the building as close as possible to its original shape and form. In 1973, through the efforts of our members, the Meeting House was declared a National Historic Site.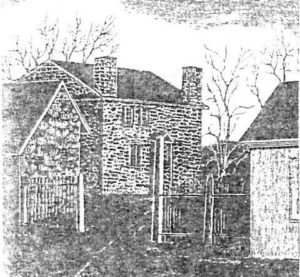 The WCCU realized this small group of women could not raise enough money to even put on a much needed roof and, by their efforts, the Uwchlan Conservation Trust, Inc. (UCT), a non profit organization, was formed. In 1976, the building was sold to the UCT, but our Garden Club continues to use the building for meetings and activities and manages rentals of the meeting house for the UCT. A small Federal grant helped with replacing the badly leaking roof along with the four original chimneys and a matching grant enabled the Trust to improve the exterior of the building, update electrical work, remodel the kitchen, and add a fireplace and closets.
Just like people, an old building requires loving care and maintenance. Floorboards need replacement, benches need to be stabilized, windows and doors need painting and adjustment. Something always needs fixing. Because this old building is our clubhouse, we share our diverse talents for the Christmas Fair and Plant Sale, which help fund new and ongoing projects.
We would love to share the history of the 1756 Uwchlan Meeting House and the warmth of our friendship with you.
To contact us for information about our club or rentals of the 1756 Uwchlan Meeting House, click here.